A new year brings serving, support, & success!
We look forward with excitement to all the new friends and awesome accomplishments ahead of us in 2017!
A new year brings new thoughts and new dreams. Here at Restoring Hope, we are set to help even more people throughout the state of Missouri.
We also have many fun activities planned to enjoy with our consumers and team members. Activities are a great way to meet and mingle, but they also test our physical or mental abilities while learning!
Wonderful activities, which include art, sports, reading, games, cooking, etc. bring new and fun challenges. For example, we are so proud of Heather practicing her baking skills! Her cake looks beautiful and delicious! Great job, Heather!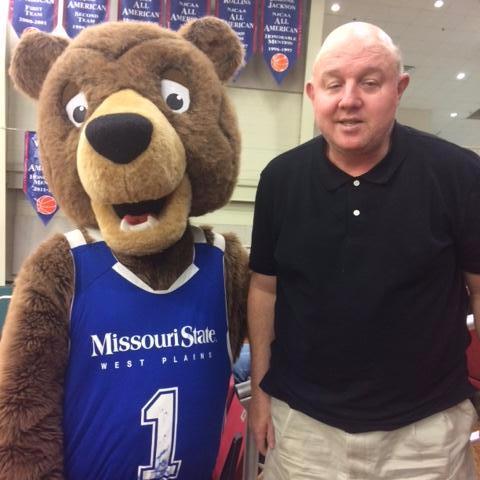 Fun activities, like going to the MSU Grizzly Game, has a wonderful impact on our spirit and our experiences. Here's our friend with the Grizzly Bear at the West Plains game on January 3rd against Southwest Tennessee. We love seeing everyone out enjoying the game!
Go Grizzlies! 
Often times, a new year can also be a time to think about a new "you." People often tend to "start fresh" and work on becoming a better version of themselves. Here are some nice tips to remember if you are thinking of improvements in your life:
Show kindness at the heart of all your words
Show empathy by putting yourself in others' shoes
Nurture your relationships
Be mindful of your responsibilities
Respect others as well as yourself
Remember, you might inspire or encourage someone without even realizing it. Other times, you may have to work hard at encouraging someone. But, it's worth it. If you could turn just one person's life around, wouldn't you?
It warms our hearts when we hear about a beautiful moment. We'd like to share a couple of shining moments.
This past Christmas, a school-aged consumer was able to go home to visit family for the holidays. You see, this visit was special. This was an extra long visit with the consumer's mother and family. It prompted spontaneous hugs from the overjoyed consumer to the host family, making the whole holiday season even more memorable.
Although we are here to help consumers thrive, beautiful things happen with our host families. Recently, a host family mom shared that Restoring Hope has saved her relationship with her child. From training to help the consumer in her home to the support and encouragement she received with team members, she gained the strength and perspective she needed for a growing and healthy relationship with her child. Just by having a shoulder to lean on, an ear to listen, or some training for renewed skills can make all the difference.
You may not realize what you have to offer is a great gift to others.  By seeing value and worth in individuals and placing ourselves in their position, you make a difference!